Right Around the River Blog
Rocketts Landing Highlights in 2014
Post Date: 02-04-2015
Here at
Rocketts Landing
, life right around the river brings ongoing action no matter the season! And last year, we had some great developments that saw new residents and new businesses join our community. Thanks to everyone who helped us make big strides in 2014 — along with each year that has brought us ongoing excitement. We look forward to all that 2015 will flow our way here along the James River.

1. New Riverbank Terraces Homes Built Along the River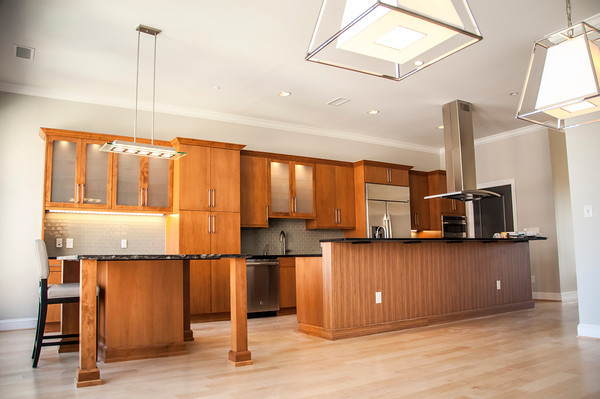 A bright, modern kitchen is a hallmark of the new Riverbank Terraces homes at Rocketts Landing.

Riverbank Terraces are one of the newest additions in upscale living here at Rocketts Landing. In 2014, we broke ground on the first round of homes, Bankside Mews, and welcomed four new families to our community! Featuring four stories of living space, personal elevators, riverfront views and more, Riverbank Terraces bring new, unparalleled living to our community. We were thrilled to also close out 2014 initiating sales for the next phase of these homes at Steam Brewery Court. We look forward to bringing the next round of Riverbank Terraces to life!
2. First Homes Built by HHHunt Townhomes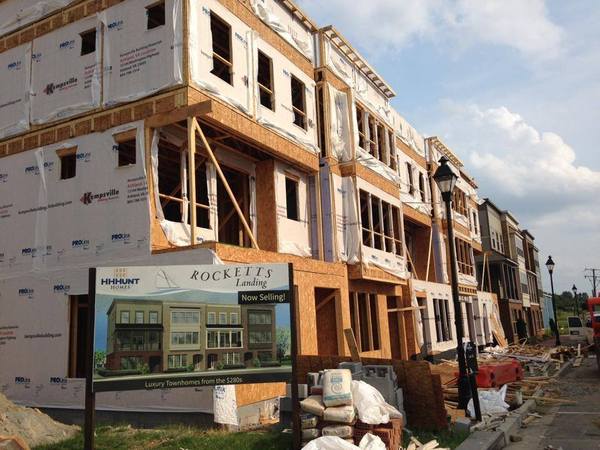 HHHunt Townhomes once under construction are now homes to new residents!

Another addition that brought new residents to our community was the HHHunt Townhomes. The first building stage featured 22 new homes, with a total of 70 homes planned by development's end. With gourmet kitchens, rooftop decks, covered porches and two-car garages, they offer modern amenities in an open layout with over 1800-square-feet and close river proximity. We were pleased to see the first phase build go so smoothly and can't wait to welcome even more homeowners in 2015.
3. Homes Sell Out at Summer Auction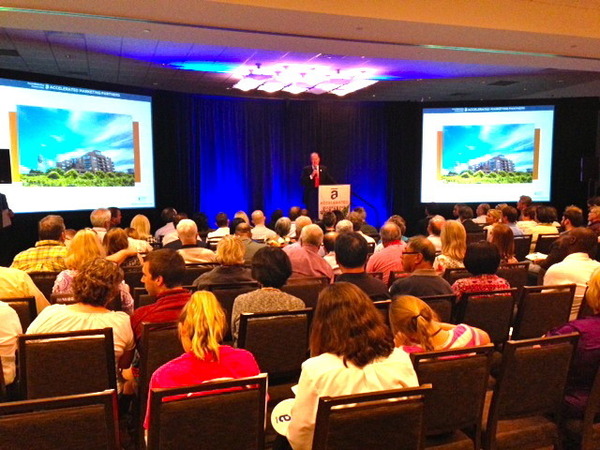 A packed crowd came out for our summer auction and bought every available property!

In 2014, our summer auction was another huge development that brought new homeowners to Rocketts Landing. As we prepped our community for the next development phase, we closed out the original building round with an exciting one-day auction of our remaining homes. Though the auction lasted only one day, we had great success and sold every listed home! We enjoyed seeing our community grow with new families and residents — and grew even more excited for building Phase 2 of new homes at Rocketts Landing.
4. Rocketts Red Glare Attracts Thousands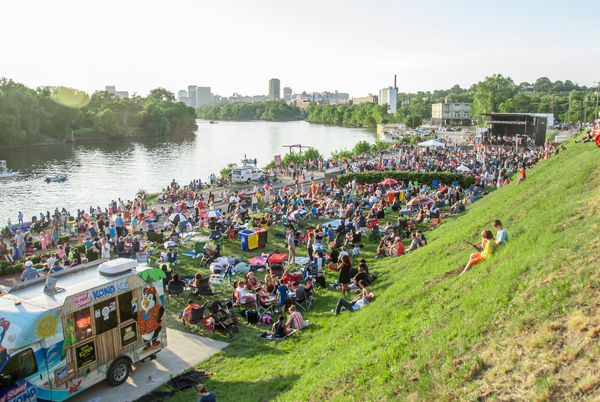 Rocketts Red Glare has become an annual RVA tradition along the James River.

Over the past few years, Rocketts Red Glare has grown to become a go-to destination for Richmonders looking to celebrate Memorial Day with fanfare. And in 2014, our event attracted the largest crowd of attendees to date! On May 25, over 8,000 people joined us along the banks of the James River for some food, drinks, live music, dancing — and RVA's only Memorial Day fireworks, right over the river. We were also able to raise the largest amount of funds yet to help support Connor's Heroes, our featured nonprofit. So thank you Richmond for continuing to help us make Rocketts Red Glare one heck of an event!
5. Newest Restaurant, Mbargo, Opens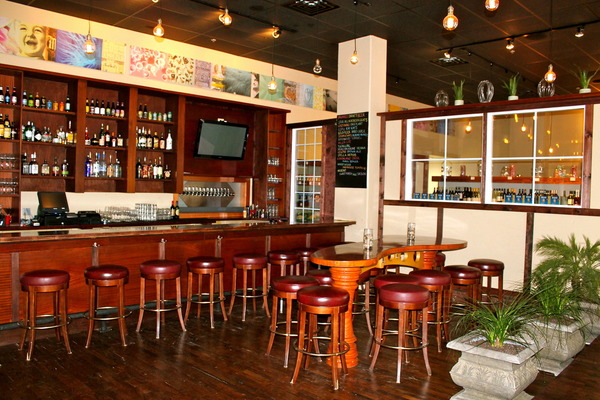 Mbargo brings a wooden-pub feel to our close-knit community, complete with restaurant and market.

While 2014 did see the closure of one of the first restaurants in our community, M Bistro & Wine Bar — November also saw the arrival of a new dining spot: Mbargo. Located in the former M Bistro space, Mbargo is part restaurant, part market featuring an ON-OFF ABC license, a full-service coffee bar, full dining and bar, and more. We've enjoyed getting to experience Mbargo since it opened and think it fills a great niche here at Rocketts Landing.
6. City of Richmond Began Clearing Path for Virginia Capital Trail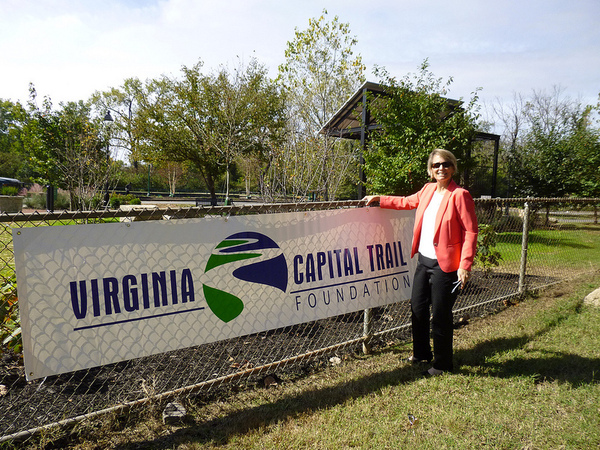 The Virginia Capital Trail completion is on its way!

Some very exciting developments came our way when the City of Richmond started tearing up the unused railroad tracks in our community to clear a path for the Virginia Capital Trail (VCT). Once complete, the VCT will link Richmond to Jamestown on a 55-mile-long pedestrian trail. The section through Rocketts Landing is the remaining portion left to build in Richmond — and will run right along the riverbanks in front of our Riverbank Terraces. After years in development, a completed trail is getting closer!
7. Richmond.com Names Annual Cap2Cap Bike Ride a "Best of Richmond Outdoors" Event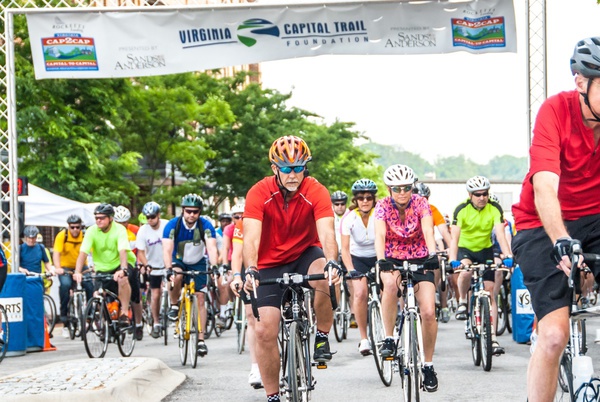 Thousands descended on Rocketts Landing in 2014 for the annual, highly popular Cap2Cap Bike Ride.

Another popular event at Rocketts Landing is our annual Cap2Cap Bike Ride, which is a fundraiser for the Virginia Capital Trail Foundation. For the fourth year in a row, Richmond.com voted Cap2Cap as one of its "Best of Richmond Outdoors" — an honor we're thrilled to hold. And with the thousands of riders that join us at the event, we have to say, we agree! We're already excited for this year's race and can't wait for warmer months to come our way.
We think these were some of the best developments in 2014 for Rocketts Landing. But, we'd love to hear what you think!
Connect with us on Facebook
, and let us know what you appreciated the most about our riverfront community last year. Here's to making 2015 another year full of adventure, right around the river!
---