Great Progress on HHHunt Townhomes at Rocketts Landing
Post Date: 05-13-2014
They say when it rains, it pours, and so if all the developments happening at Rocketts Landing are indicative of the season, we're having one heck of a downpour — and we're loving every minute!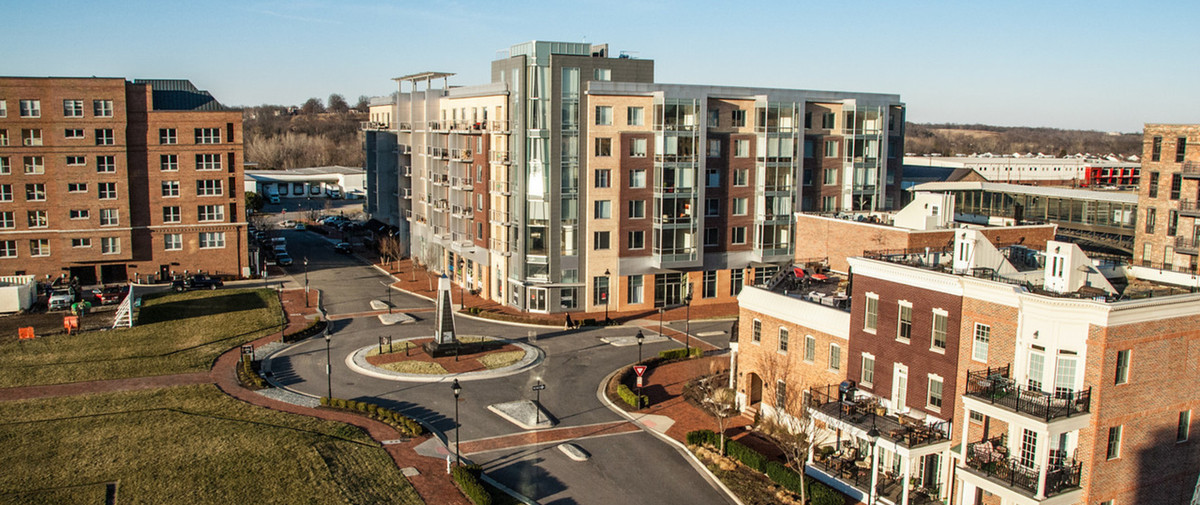 Our riverfront community is growing in more ways than one and will bring many new homes and people to Rocketts Landing.

In addition to momentum growing for our upcoming condo auction and new restaurant Mbargo moving into the former M Bistro & Wine Bar space, the first luxury townhomes developed by HHHunt are in construction. Once complete, they'll bring over 80 new homes to our community, which means a bunch of new Rocketts Landing residents enjoying life right around the river.

The First Townhomes
HHHunt is currently building the first 22 townhomes (including one model home), and thus far, 11 homeowners are under contract. HHHunt is now framing the first building, which is sold out and includes three townhomes and the model. The first homes will be located in the center of Rocketts Landing, directly across from our Fall Line building on Old Main Street. HHHunt expects to complete their development in late July.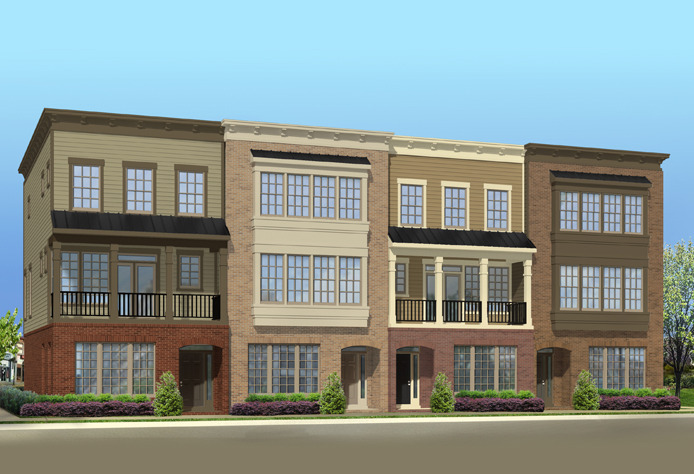 Rendering of the HHHunt townhomes. Photo credit: HHHunt

HHHunt also plans to build two more buildings this year: Located beside the first townhomes across from Fall Line, the second building will have five townhomes, with four already under contract. Meanwhile, the third building will be located behind our Riverbank Terraces at Bankside Mews, directly across from 210 Rock, and will feature four (already sold-out) homes.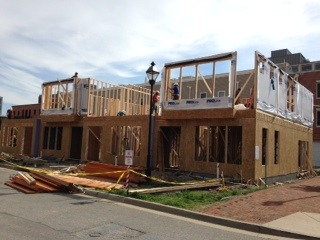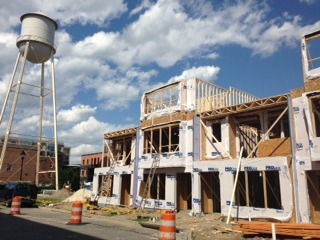 The first HHHunt townhomes are being built, and each day shows new progress!
To meet their building goals, HHHunt plans to complete construction on these first homes by year's end, with all contracts signed by August.
A Focus on Green Efficiency
Not only is HHHunt known for quality craftmanship, they also make energy efficiency a priority. The new Rocketts Landing HHHunt townhomes will have tankless water heaters, low-heat windows (to reflect the heat while also retaining the heat and cool in varying seasons), and high-efficiency furnishings. HHHunt Sales Executive Lisa Khoury says their goal is to save homeowners up to $700 a year in energy costs.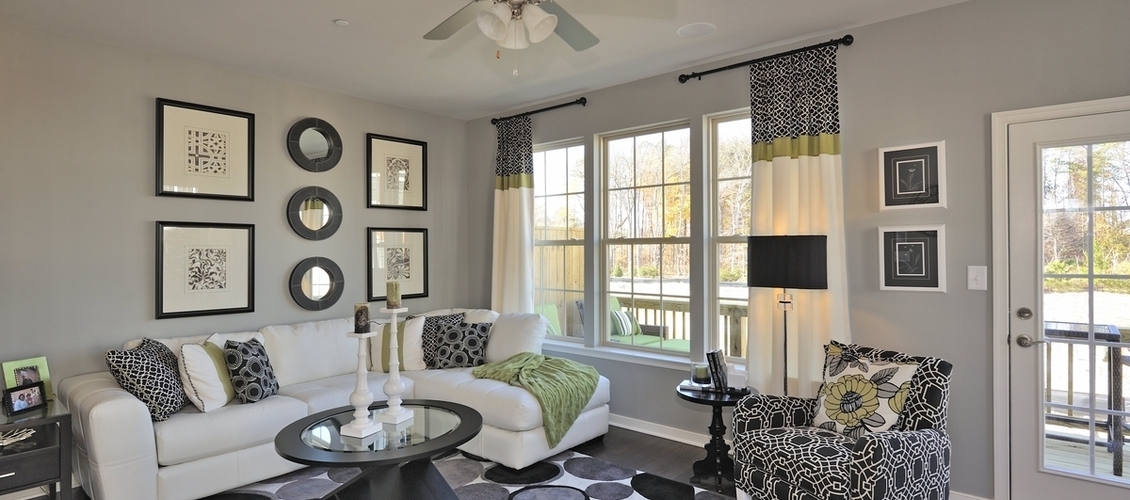 HHHunt townhomes offer modern living with efficiency in mind.
"When we build green, it's more than just the approach to the building," explains Lisa. "We use sustainable materials and advanced construction techniques to give our homeowners a valuable, durable home they deserve that also reduce energy costs and conserve resources using environmentally friendly materials to protect our planet."
Green building in luxury townhomes that brings more people into our close-knit Rocketts Landing community! What more could we ask for? You can learn about HHHunt townhomes online or by contacting Lisa Khoury directly at 804.393.1838 or emailing her today.