Getting to Know the Neighbors
Post Date: 10-12-2010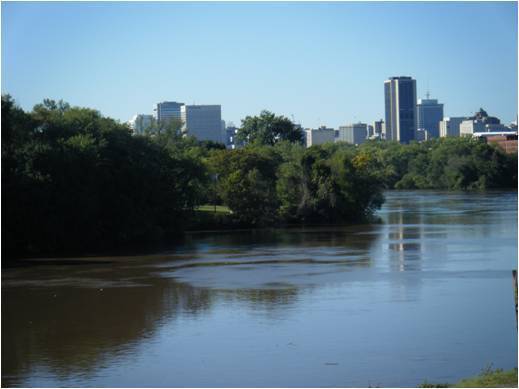 Rocketts Landing has many features that make it unique - the riverfront views, the access to great events and outdoor activities and The Boathouse Restaurant (just to name a few). However, for me, the community is unique for another reason - the amazing atmosphere of friendship, fellowship and connection.
This past weekend, I had the pleasure of attending Rocketts Landing Neighborhood Social Committee's first annual Oyster Roast. This event, sponsored by The Boathouse Restaurant, was a truly special occasion. Just as the sun was setting on the James, servers from The Boathouse wheeled trays of oysters down to the river's edge, where residents from each of Rocketts unique buildings brought a variety of side dishes and set up one expansive and impressive picnic display. The beauty of the riverfront setting and welcoming nature of the group provided the ultimate combination for an engaging social experience.
Before I had time to grab a plate to pile high with oysters and pasta salad, Sharon Payne, the committee's social chair gave me a giant, enthusiastic welcome. She was so eager to pile my plate with food while at the same time giving me updates on the committee's upcoming events and initiatives. "We are focused on building a "Fan-like" neighborhood on the River," Sharon began. "We have such a rich sense of friendship and community. It is all about the people, and here at Rocketts, we have good people - people who care about one another."

After she shared details about the upcoming Halloween celebration (a cartoon-theme costume party), she explained the structure of the social group, its continuous growth and the main reason for the committee's founding earlier this year. "The committee has a social chair assigned to each of Rocketts individual residential buildings, and as a unified group, the committee schedules events within the community, as well as works to develop projects around charitable efforts in Rocketts' nearby neighborhoods," Sharon explained. "Not only do we think it is important to develop a group where Rocketts residents can connect as neighbors within the community at large, but we also want to build a group that is dedicated to reaching out to our neighboring areas, such as Fulton Hill", she continued.
The committee selected Richmond's Neighborhood Resource Center of Greater Fulton Hill as the focus of its community outreach. The Center is a grass roots non-profit whose mission is to foster personal growth and positive change in the Greater Fulton Hill community. Throughout this past year, the social committee has hosted events, participated in the Center's projects and volunteered in the Center's programs. This fall they will be involved in several more events benefiting the Center, such as the Rocketts Landing Run to the River 10K/5K race (taking place this weekend) and organizing a Toy Drive before the holidays.
I was in awe of Sharon's enthusiasm and the group's willingness to tell me more about their vision and culture. Merrick Platt and Hayley Karicofe, three-year residents of Rocketts' Cedar Works building, moved in at the same time and instantly became best friends. "We love the sense of community," explained Merrick. "When you become part of Rocketts, you just feel like you are part of something special – a place that cares and always has a door open willing to listen and help. Before I moved to Rocketts, I did not know this type of neighborly living existed."

After only being with Rocketts Neighborhood Social Committee for a few hours, I felt exactly what Merrick was describing. Being a part of this group is truly a unique experience – a good example of how strong a community can be when people get to know their neighbors.