Right Around the River Blog
Icon Realty Founder Relocates Home and Business to Rocketts Landing
Post Date: 11-26-2018
When Catina Jones was looking for new office space for her growing real estate firm, Icon Realty, she and her husband had just closed on a new home in Rocketts Landing. Empty-nesters, they were ready for the riverfront lifestyle our community affords. And they were excited to move from our residential waiting list to their new home. Once they learned an office space was available and checked it out, Catina sealed her decision to relocate her business from Church Hill to Rocketts Landing. On November 1, Icon Realty opened for business in its new location!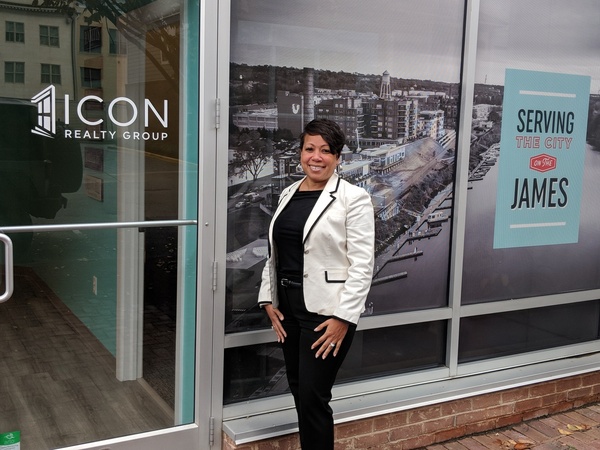 Icon Realty Founder/Owner Catina Jones at her new office space in 210 Rock at Rocketts Landing.

Today, Catina lives, works, and plays at Rocketts Landing. With 15 years of experience as a realtor, Catina formed Icon Realty 3 years ago. They're a full-service brokerage and have 14 employees (and are currently hiring new realtors), with Catina's husband Robert Jones serving as COO. The new office will enable her to expand her business within the city. For Catina, this is an ideal outcome, because her true passion is being a caring community ally.
"There's nothing better than having fun and also being a business partner in the community," says Catina. "I can't think of any other way to do business."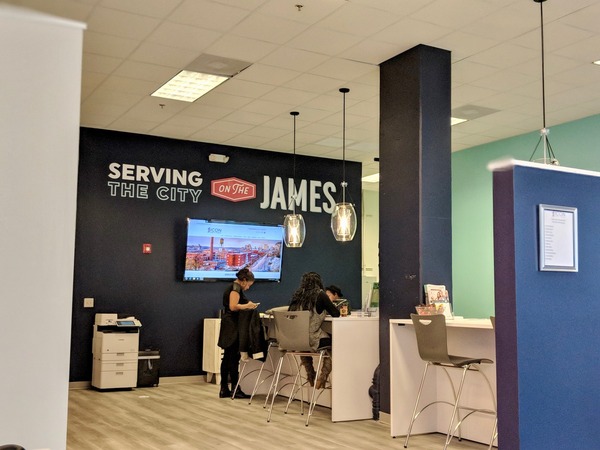 The main area's open floor plan provides ample natural lighting and collaborative work spaces.

With more office space, Catina can now launch new services— which includes property management and Icon Realty's new boutique service focusing on luxury homes, called "Luxe Lane." At the same time, Catina's excited about continuing her focus on helping new homeowners find the home of their dreams, no matter what income level.
"That's a personal passion of mine," she says, "We want anyone who has a desire and ability to buy a home to be able to come into our office and do so."
Her commitment to the community also includes having an open-door policy at Icon. She wants her modern, open office to be a place where people can host art showings, neighborhood wine tastings, and other social events. To support this vision, Icon's office will soon include banquet seating. The space will encourage people to stop in and have a café-style conversation with an Icon agent.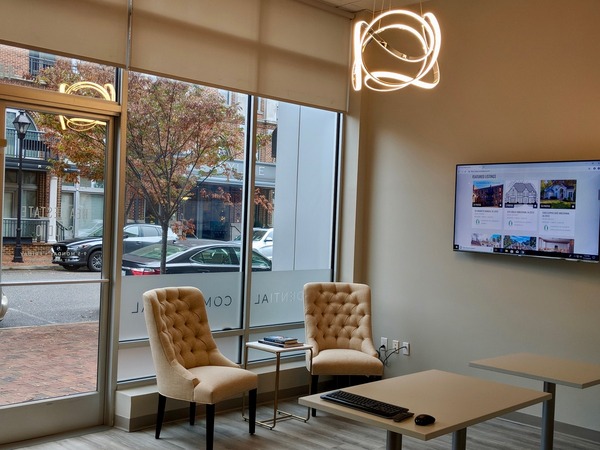 The front room at Icon Realty will soon include café-style banquet seating.

Ultimately, at Rocketts Landing, Catina feels that she can fulfill Icon's business goals while supporting the active, outdoorsy lifestyle she and her husband enjoy. And from our perspective, that's exactly the type of community we're fostering. Welcome to the neighborhood!
Icon Realty Open House
Join Catina and her Icon Realty team for an open-house celebration that includes light food and drinks, a DJ, live music, a photobooth, and more!
When: November 29, 2018
Time: 4:00 pm to 8:00 pm
Cost: Free and open to the public
---