Right Around the River Blog
Life on the River With Carefree Boat Club at Rocketts Landing
Post Date: 09-01-2016
Just around the bend from downtown Richmond, we embrace a relaxing lifestyle tucked between the James River and the city. And there's one company here whose whole purpose is helping people enjoy life on the river: Carefree Boat Club at Rocketts Landing. Every year, they get Richmonders out playing on the water without having to own a boat — and this year was no different!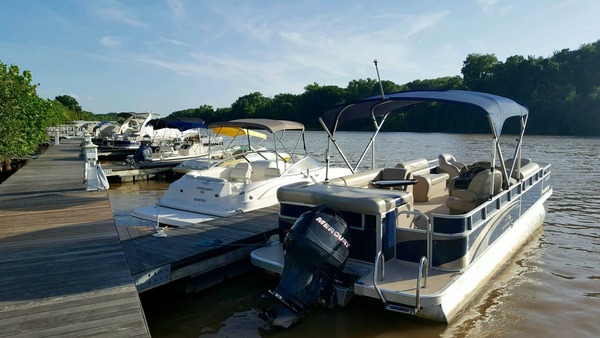 Carefree Boat Club's current fleet docked at the Rocketts landing marina on the James River.
Carefree partners Bryan Courtney and Tim Bellows say the 2016 season overall has been great, despite being off to a slightly slow start due to the very rainy month of May. The Rocketts Landing marina also experienced a few damages in the winter due to an ice storm, which briefly closed the dock in early spring — so we could make the necessary repairs and get river activities back in action. During this time, Carefree temporarily operated out of Jordan Point Marina just down the James River in Hopewell.

"Our members still were able to enjoy a good amount of boating between rains," says Tim. "The season has been great with lots of sunny and hot days."

To keep a good ratio of members and boats, Carefree operates what they refer to as a "modest-size club model." They currently have slightly fewer than 30 member families and operate five boats: two luxury pontoons, a family open-bow, a deck boat, and a center console fishing boat. They plan to add a sixth boat to their fleet in 2017 in order to support their growing membership.

Purposeful Growth

Bryan took over operations of Carefree in 2013 and Tim soon joined him as partner, and they've since seen consistent membership use and a growing staff — including one dockhand who is a Rocketts Landing resident!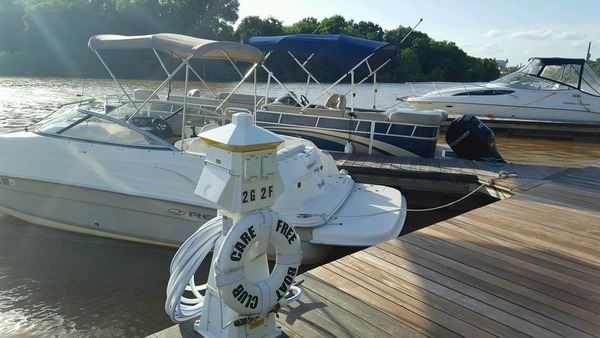 Additional boats that comprise the 2016 Carefree Boat Club fleet.
In fact, they're currently looking to hire another Rocketts Landing resident to serve in a limited management role overseeing operations and supporting next year's boating season. This position offers part-time hours, and according to Tim, "could be a great position for a retired or semi-retired person to have an enjoyable position working on the beautiful James River for several months a year."

So, if you live at Rocketts Landing and enjoy being on the water, perhaps this role is for you! You can contact them at 866.630.5959.

New Membership Package

To offer various ways to get people out on the water, Bryan and Tim introduced a new membership package this year called the "Explorer" level. They created this membership for those who may not venture frequently enough to support a monthly membership but who still want access to boating opportunities.
The Explorer level includes 10 boating outings per season: five in Richmond and five at any of Carefree's other 50+ locations, including seven locations within two hours of Richmond. Explorer members pay a flat fee for 10 usages with no monthly membership dues.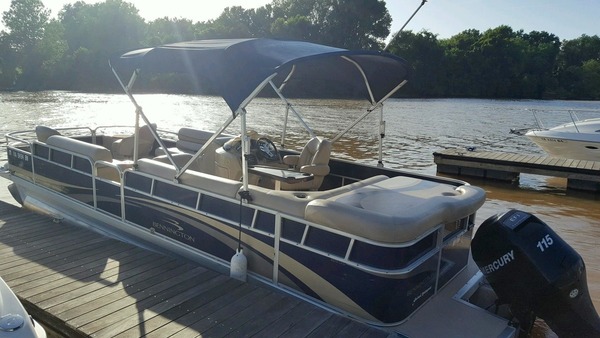 A 26-foot Bennington luxury pontoon available to Carefree Boat Club members.
So, if you consider yourself more the "average" rather than the "avid" boater, this option is worth exploring. But take note: They can only offer a handful of these memberships each year on a first-come-first-serve basis.
The Remaining Season
Though the season has just a couple of months left, Tim and Bryan point out that there's still plenty of time to become a member and enjoy the boating perks. And anyone who joins before mid-September will receive a Carefree Boat Club–sponsored rebate. Plus, they always encourage people to stop by for a visit.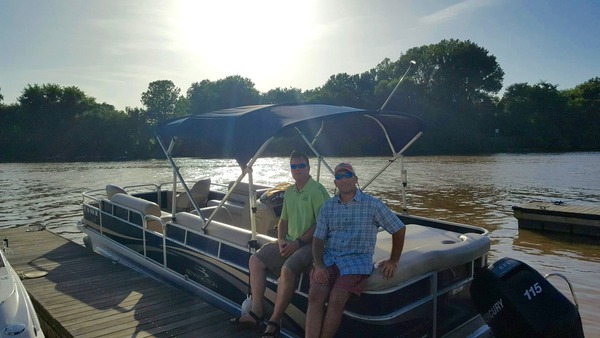 Carefree Boat Club partners Tim Bellows and Bryan Courtney (from left).
You can learn more about Carefree Boat Club at Rocketts Landing online or call them any time at 866.630.5959. Thanks to the folks at Carefree for helping Richmonders and Rocketts Landing residents enjoy boating without owning!

Photo credits: Carefree Boat Club at Rocketts Landing
---