Right Around the River Blog
James River Association's Annual Expedition Camps at Rocketts Landing
Post Date: 08-12-2014
Paddling the James River all the way to the Chesapeake Bay with 30 high schoolers may seem like a handful of a summer getaway. But for the James River Association at Rocketts Landing, this annual Expedition Program is an exciting way to foster an appreciation for our historic river and engage new generations of James River enthusiasts and guardians. And for JRA's fourth Expedition, they brought the students to Rocketts Landing for a night of camping before kicking off their eight-day paddling trip toward the Bay.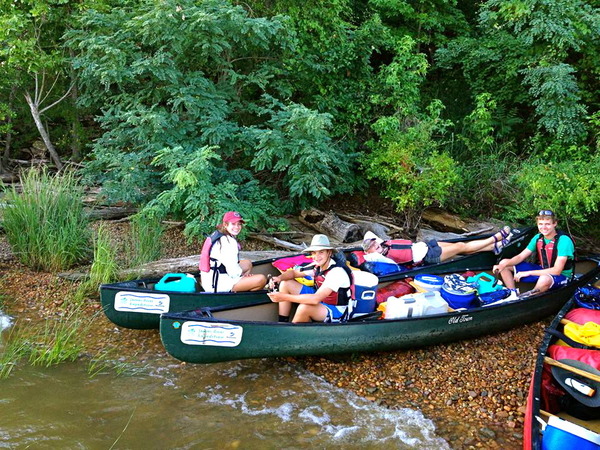 James River Association's Expedition Program brings 30 high schoolers on an eight-day paddling trip on the Jame River. Photo credit: JRA

On July 26, 10 teenagers took to the Lower James by launching downtown at Tredegar for a whitewater rafting adventure with Riverside Outfitters through Richmond and the James River fall line. The students, who had different levels of river paddling experience, were part of a larger group of high schoolers representing 17 different schools from across the James River watershed. As a whole, the Expedition takes 30 students on eight-day-long paddling trips split between the Upper, Middle and Lower James — with 10 students per group. By the Expedition's end, participants collectively paddle the entire river.
The James River makes its final drop at Richmond's fall line before depositing into the tidal basin or the "Lower James." So, starting the trip with a Class III/IV whitewater rafting trip was the quintessential Richmond–James River bonding experience.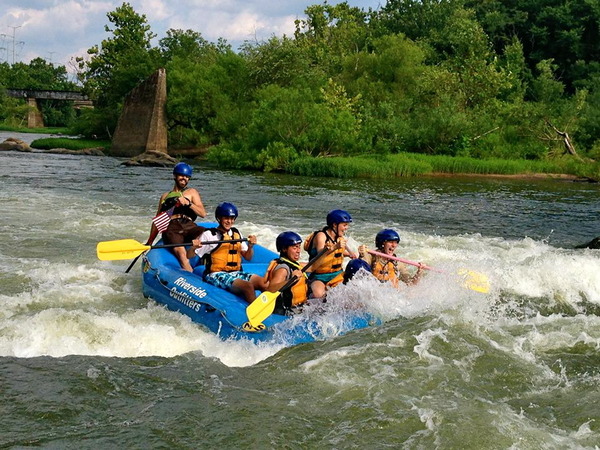 Lower James Expedition students surf the whitewater rapids at RVA's downtown James River fall line. Photo credit: JRA
"This is a huge adrenaline rush for everyone," explains Kyle Burnette, the Expedition's lead educator and JRA's field educator, "and brings the group close together on the very first day."
JRA and the Lower James students spent their first Expedition day at the camp getting to know one another, their roles and the team. After their whitewater trip through downtown RVA, they landed at Rocketts Landing for their first night camping and taking in the stellar river views and downtown skyline.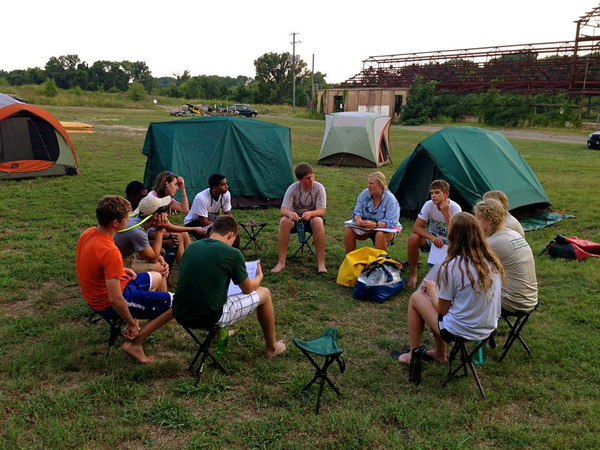 Expedition students camp at Rocketts Landing for their first night on their river adventure. Photo credit: JRA

The next morning, they packed up their camp and shuttled over to Ancarrow's Landing across the river. With gear in tow, they launched their canoes downstream for a 13-mile paddling trip to Hatcher Island — the camping site for the night. Along the way, they learned about the James' role as a working river that impacts the economy, as well as how important rivers are to energy production and the health of a community as a whole.
But paddling the James River to the Chesapeake Bay is no simple feat.

"River Expeditions are inherently challenging," says Jessica Templeton, JRA's exhibition manager. "There are many miles to make in a day, hot days to paddle through, and sometimes bad weather. The Lower James River Expedition is especially challenging because students are paddling canoes on big open water that is typically only traveled by engine powered (not human powered!) water crafts."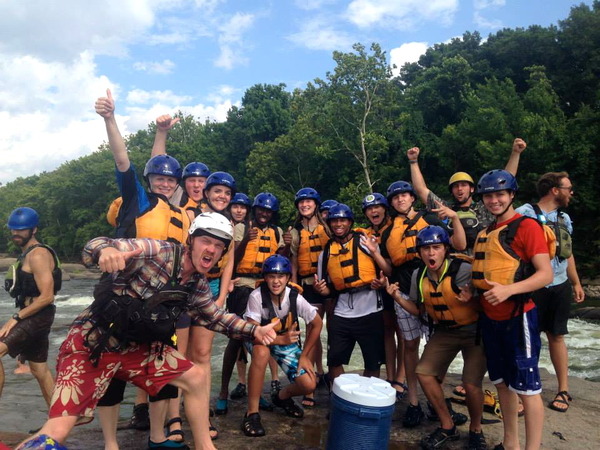 Lower James Expedition students and program leaders pause on a river rock to embrace the moment. Photo credit: JRA

They also end up frequently paddling against the tide, which offers them ongoing challenges and adventures. For the Lower James Expedition team, they wound up fighting white caps from both winds and tides while crossing the Appomattox River to their lunch spot in Hopewell's City Point.
By the Expedition's end, however, everyone successfully made it to their destination at Fort Monroe in the Chesapeake Bay for a group celebration — and of course, a huge welcoming from many eager parents.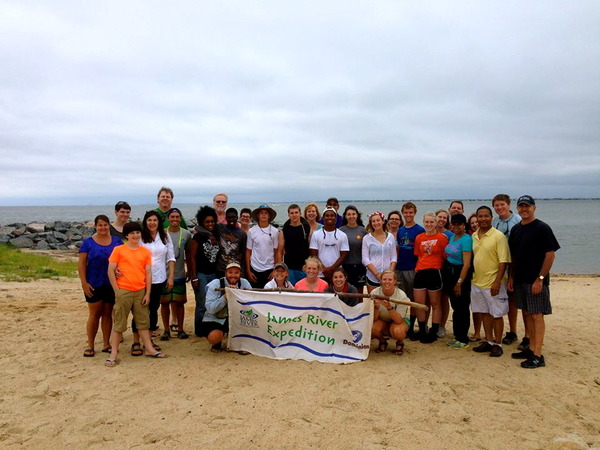 After their eight-day paddling trip down the James River, the Expedition lands in the Chesapeake Bay. Photo credit: JRA

We appreciate JRA's efforts in not only being guardians of our beloved James River — but also fostering new generations of river enthusiasts. To learn more about the annual JRA Expedition Program or their other many efforts throughout the year, be sure to visit the James River Association's website. And you can always drop in for a visit at their headquarters here in Rocketts Landing. Congrats to all the students who completed the trip! We look forward to seeing the newest group of river travelers next year.
---