Right Around the River Blog
HHHunt Townhomes Bring New Neighbors to Rocketts Landing
Post Date: 08-21-2014
The dog days of summer might be here, but for a few fortunate families, this August marks an exciting milestone: Moving into their new HHHunt townhome at
Rocketts Landing
!

We love welcoming neighbors to our close-knit community, and we can't wait for them to begin enjoying the unique Rocketts lifestyle. The river right out their door. Regular neighborhood parties. Weekend festivals and events. Easy access to everywhere in RVA. We might be a little biased, but there's nothing quite like life here. And these beautiful townhomes are a chic new way to enjoy life around the river.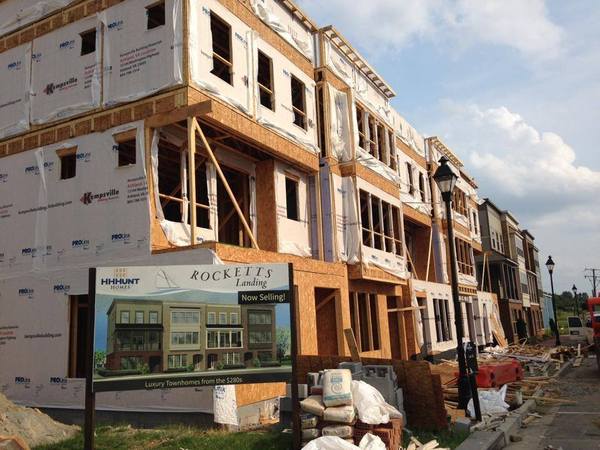 New HHHunt homes are on their way at Rocketts Landing.

HHHunt is building 22 Rocketts Landing townhomes in their first stage and plans to construct 80 homes in total. With gourmet kitchens, rooftop decks, covered porches and two-car garages, they offer modern amenities in an open layout with over 1800-square-feet and close river proximity. And because HHHunt is committed to green building, owners can expect to save hundreds of dollars on their energy costs each year. (With our amazing restaurant offerings here at Rocketts Landing, we can think of a few ways the owners can enjoy their savings!)
We've been watching the first construction phase with anticipation, and we can't believe the first four homes are complete. The second building is completely sold out — and it will be finished in only a couple of months! And development certainly won't stop there.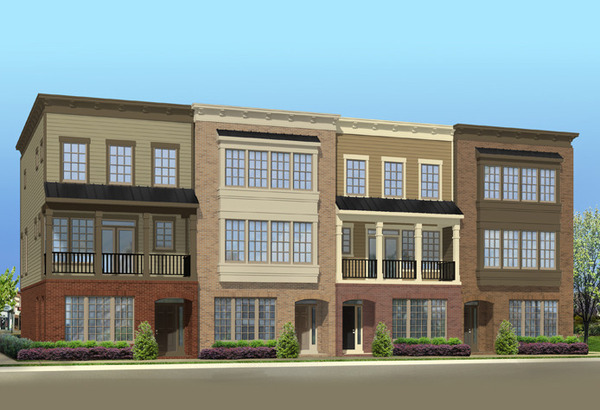 A rendering the HHHunt homes once complete. Photo credit: HHHunt

New homeowners are loving this initial building phase, which means only a few lots are still available. If you're interested in claiming one of these homes and joining the Rocketts Landing family, contact Lisa Khoury at 804.393.1838 or email her at rocketts@hhhunthomes.com. We're happy to welcome our newest neighbors and hope to see you right around the river soon!
---