Right Around the River Blog
BrownGreer Reaching New Business Heights at Rocketts Landing
Post Date: 08-19-2014
Rocketts Landing
is home to a myriad of interesting residents. But individuals and families aren't the only ones who seek out our
riverfront lifestyle
! From restaurants to law firms and more, 10 businesses also call our community their home. And last year, after months of efforts renovating the
historic Cedar Works warehouse
, law firm
BrownGreer
joined our Rocketts Landing family. So, we decided to check in with them and see how their location and office has been serving them. Below is our edited transcript with Founding Partner Orran L. Brown. Enjoy!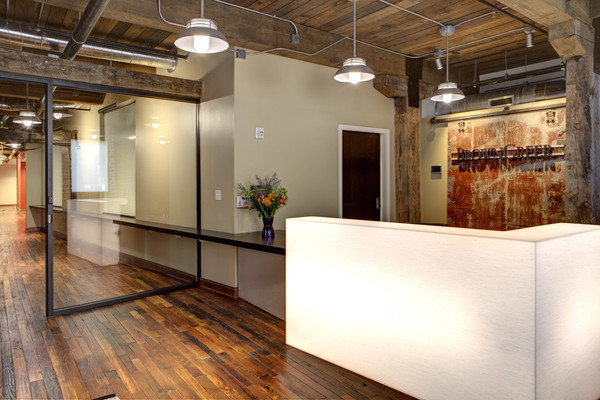 The entrance to BrownGreer in the historic Cedar Works warehouse. Photo credit: Scott Wertz
Rocketts Landing: How has your Rocketts Landing location and historic renovation been serving you?

Orran Brown: We have been extremely pleased with our first 15 months at Rocketts Landing. We are very proud of the look and feel of our building. Every visitor seeing it for the first time remarks on some aspect of our office design and appearance, and our workers seem to share in our pride in our offices. We enjoy the Rocketts Landing location and all the energy it offers [us].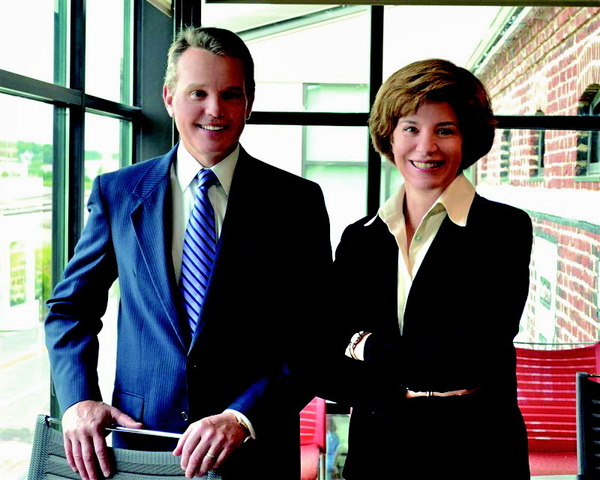 Founding Partners Orran Brown and Lynn Greer. Photo credit: BrownGreer

RL: What building/location details stand out to you and your team?
OB: The interior design, furniture, and renovation work done on our space were all well planned and well executed by the vendors we had helping us. Particularly, we and our visitors appreciate the exposed brick, the soaring ceiling on our top floor, the glass features, the reclaimed wood, and the barn doors and other interior metal features we were able to use as accents in our space. We regularly are told, "This place is cool!" Also, we're glad to have parking available to us and remain intrigued by the trains that pass by each day.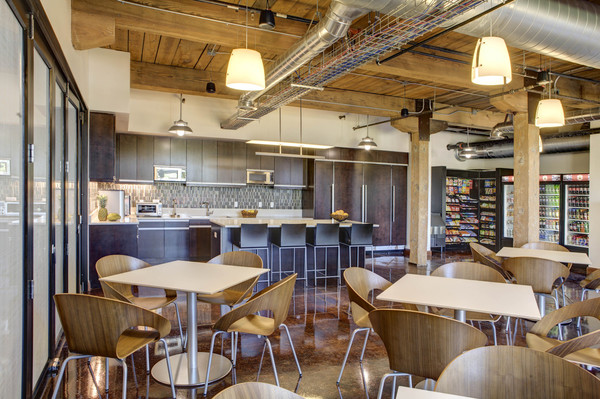 The break room features exposed wood beams balanced with modern appeal. Photo credit: Scott Wertz

RL: Any specific business updates you'd like to share?
OB: BrownGreer continues to prosper in our new location. We have expanded into additional project areas and are handling several new programs. For example, we were named the Claims Administrator for the proposed NFL concussion litigation, which was recently given preliminary approval by a federal court in Philadelphia.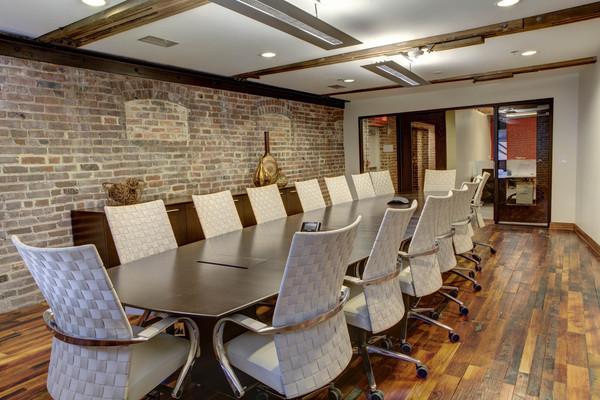 The conference room features exposed brick and reclaimed wooden floors for unique ambiance. Photo credit: Scott Wertz

RL: Has your Rocketts Landing location positively impacted your business objectives in any manner? Or, your office/corporate culture?
OB: Yes. We feel that having our own, cutting-edge building in a progressive setting fits with our image as a vibrant, cutting-edge firm offering the best services in our industry. As we had hoped, the image of our building and location matches and promotes our image as a firm. We bring experience and innovation to bear on every project we do. A building that exudes both a stalwart history and creative renovation helps us send that message.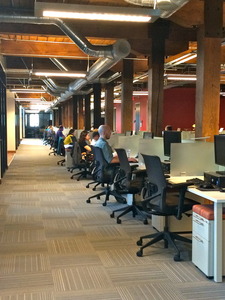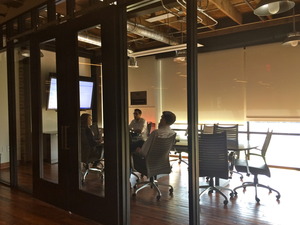 BrownGreer employees stay busy at their Rocketts Landing headquarters. Photo credit: BrownGreer

From a warehouse once storing ice cream freezers and decorative woodenware made by steam-powered equipment to a modern office home to a thriving business, the Cedar Works warehouse certainly has many stories thriving within. We love learning how businesses who move to Rocketts Landing find their home right around the river. If you're considering moving your office and enjoy close proximity to the James River, contact Rob Hensley at (804) 536-5597 to learn about our available opportunities and schedule a visit. We look forward to seeing our riverfront community grow!
---