Right Around the River Blog
The Boathouse's New "Dinner in the Field" Is Foodtastic
Post Date: 07-09-2014
Here at Rocketts Landing, we love when novel concepts meet delicious experiences. And we enjoy them even more when they're tied to businesses in our riverfront community. So, when The Boathouse launched their recent "Dinner in the Field" dining event, we knew had to check out their newest initiative!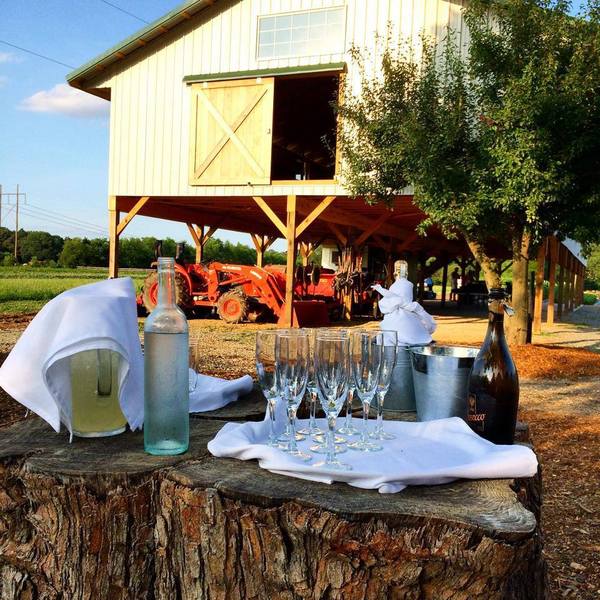 At Dinner in the Field, Chef Paige Healy prepares all food in the outdoor kitchen underneath Victory Farm's barn on stilts.

In a nutshell, Dinner in the Field is intimately foodtastic. When you've found yourself whisked away to the depths of an organic garden (Victory Farms in Varina), eating amazing garden-picked Italian food — cooked by Italian-trained chefs — paired wonderfully with wine and 28 other guests as the stars fill the sky, your senses easily swoon. So, we let the experience embrace us and enjoyed every minute.
We arrived greeted by The Boathouse at Sunday Park Chef Paige Healy, whose charming and enthusiastic personality immediately set the evening's mood. Everyone sits "family style" at one long table, so becoming friendly with your neighbors just naturally happens. The garden surrounds you — and with our love of the great outdoors here at Rocketts Landing, the ambiance and mood were right up our alley.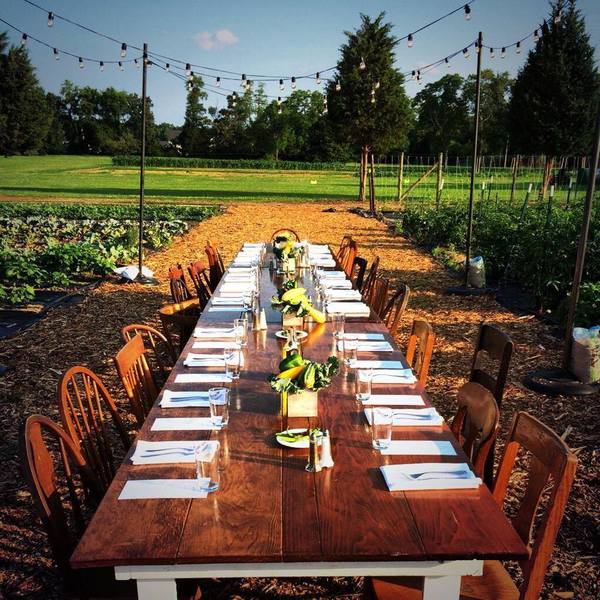 The dinner table seats 30 guests perfectly surrounded by verdantly growing garden veggies!

From there, the evening became a seemingly endless five-course offering of bountiful food cooked directly from their garden-based outdoor kitchen: bruschetta with tomatoes, onions and basil; zucchini fritte with lemon; a salad of freshly picked roasted corn, tomatoes and cucumbers; a pesto pasta rich with garden-fresh basil; tender (oh-so-garden-tender) eggplant parmigiana — all of which culminated with a delicious yellow squash cake. In fact, chefs frequently came to our table offering up seconds and thirds, while encouraging us to pick more basil from the garden. Meanwhile, we passed around delicious bread and wines with our neighbors and enjoyed friendly conversations under the moonlit sky.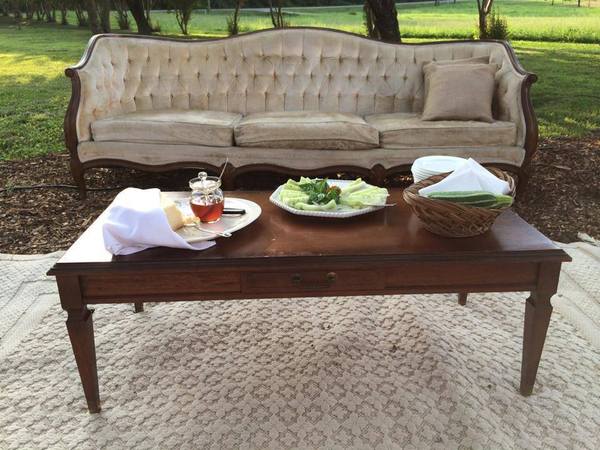 You can even lounge in the outside living room set up at Victory Farms.

But, dinner wasn't the only experience. After our first course, everyone was led on a farm tour where we learned about eggplant and munched fresh cherry tomatoes off the vine. And if we ever had questions or wanted to know more about the food, our hosts were always ready and willing to chat, fill us with answers and continue filling us with food!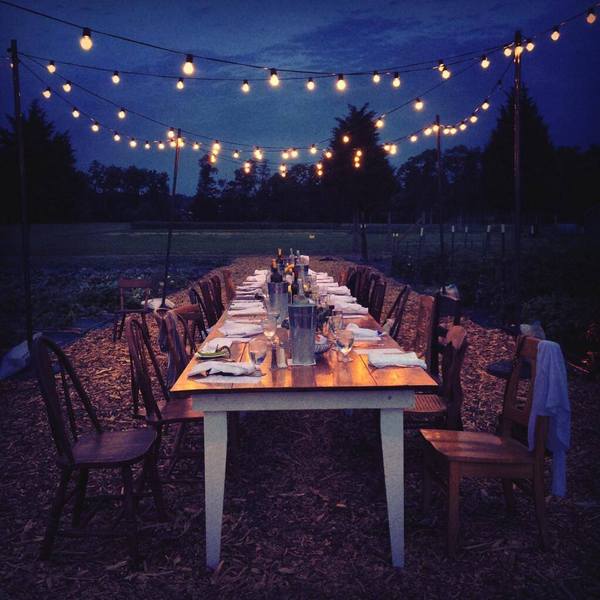 When night falls, Dinner in the Field only becomes more magical.

All in all, we have to say that we're quite impressed with and delightfully stuffed by our Dinner in the Field experience. We're certain that the folks at The Boathouse and Victory Farms have landed on a very RVA gem with their new event! Dinner in the Field has a limited run through the end of July with a new menu for each dinner, so be sure to reserve your spot now.
---