Right Around the River Blog
Freedom Boat Club Docks at Rocketts Landing
Post Date: 05-04-2021
Get ready, Richmond! A new boat club is in town and ready to make your boating adventures a reality. Freedom Boat Club Northern Virginia is expanding their membership to Rocketts Landing. With the James River integral to our community, we're excited to offer our residents and the Richmond region a new way to enjoy boating.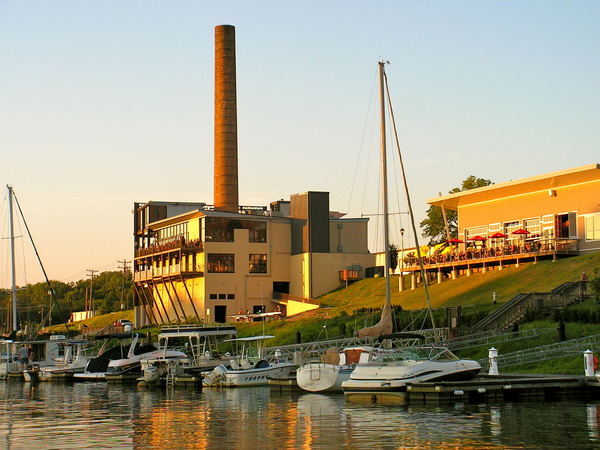 The Rocketts Landing marina is immediately below The Boathouse and Conch Republic restaurants.

Richmond Ripe For Expansion
Freedom Boat Club is expansive with over 275 clubs and over 60,000 memberships worldwide. Their clubs include cities across the US, Canada, and France — including a newly launched club in the United Kingdom on the Thames River. The boat club's Northern Virginia franchise is also growing domestically. After years supporting members at three other locations (Lake Anna, Woodbridge, and Stafford), opening the next club in Richmond made sense.

"We're always looking for a location that has significance," says Arleen Scott, general manager for Freedom Boat Club Northern Virginia. "A lot of members that joined in Lake Anna actually live in Richmond. So, it was a natural next step to open [here]."
Once Rocketts Landing opens, Freedom Boat Club Northern Virginia will operate four locations throughout the state with a fleet of 42 boats.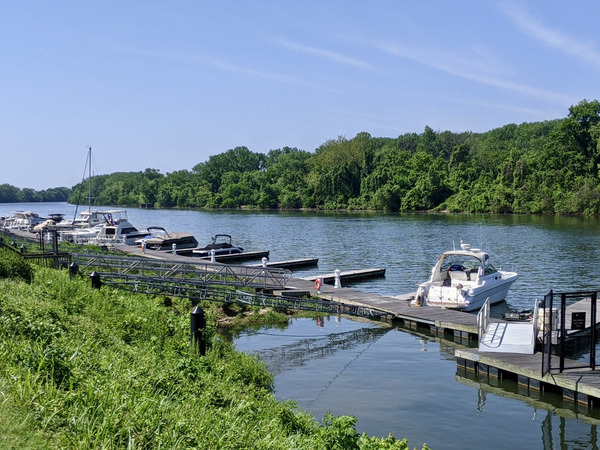 The James River winds along Rocketts Landing and provides great boating adventures.

How Membership Works

Becoming a Freedom Boat Club member means enjoying boating without all the responsibilities of owning a boat. They welcome anyone to join, regardless of whether you have boating experience.
Your membership gives you and a spouse/partner full access to the club's boating perks. When joining, the club provides each person with free, unlimited training from licensed captains. They want to make sure that members feel confident to take their family and friends out for adventures, and enjoy all that membership has to offer.
To join, members have three levels to choose from: Freedom Boating, FBC Lite, and Weekday Boating. You then pay a one-time entry fee followed by monthly dues. From there, you can be a member for as long as you want with no long-term commitment. You can cancel your membership at any time by giving the boat club 60-days notice.
Your membership fees also include insurance that covers your boat use. The only additional costs are paying for gas when returning the boat after an outing.
Membership Perks
As a member, you have access to other Freedom Boat Club locations, depending on your membership level. This perk means that you have unlimited use at your house club, which locally includes Rocketts Landing, Lake Anna, Woodbridge, and Stafford. You then have reciprocal use at clubs in Portsmouth and Norfolk. You can also reserve boats throughout Freedom Boat Club's various member locations.


Members are allowed to bring up to 12 guests (8 guests for smaller boats) on any boat outing for no additional charge. Plus, you can bring guests as frequently as you want with no limit on how often they can join you. However, only members are able to drive the boats. And if you have canine family members who enjoy water adventures, you can even bring them along for the ride.
A Modern Fleet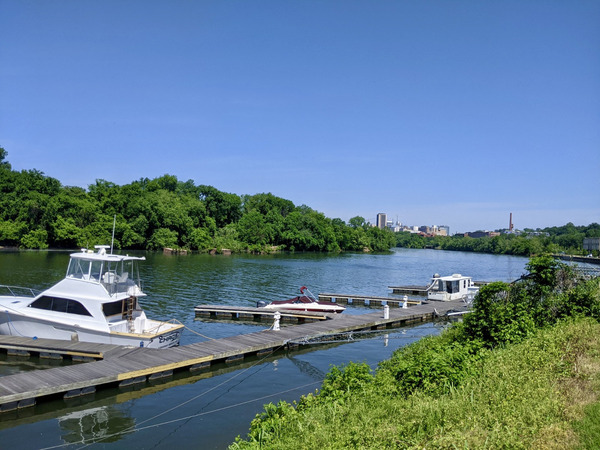 Downtown Richmond, Virginia, is just minutes away from Rocketts Landing's marina.

Every boat in Freedom's fleet is brand new — with the Rocketts Landing location opening with all 2021 models. As a standard operating practice, as soon as a boat is three years old, the boat club sells the boat and buys a new one.
Upon opening, Freedom Boat Club will have the following boats available:
2 Sea Ray SPX 210
1 Bennington Tritoon (pontoon)
1 Key West Center Console Bay
Freedom's Boating Season
Freedom Boat Club officially opens at Rocketts Landing on Memorial Day Weekend, May 28, 2021. Their boating season runs through the end of November. To celebrate their grand opening, the boat club will host two soft-opening events.

Rocketts Landing–exclusive open house: May 21, 2021
As an exclusive event for Rocketts Landing, Freedom Boat Club will invite residents to explore the club and its fleet, and meet the team. Stay tuned to our blog for upcoming details.

General open house: May 22, 2021
Freedom Boat Club will invite the public through invitation to explore the club and all it has to offer the Richmond community.
"This is such a great opportunity for Richmond," explains David Prestia, Membership Executive for Lake Anne and Rocketts Landing. "The river is such a wonderful asset for the city. I'm excited to be part of Rockets Landing."
Freedom Boat Club Contact Information
Freedom Boat Club Northern Virginia at Rocketts Landing is located at:
1 Orleans Street
Richmond, VA 23223
For more information about membership, contact Membership Executive Dave Prestia at 804.406.4433.

---