Right Around the River Blog
The Boathouse Collaborates With Trapezium Brewing Co. for Custom Beer, Boathouse Oyster Lager
Post Date: 03-22-2017
Good news, beer lovers! The Boathouse has teamed up with local brewer, Trapezium Brewing, to craft a custom beer served only at their dining locations. Dubbed the Boathouse Oyster Lager, the brew is a nod to both our region's flourishing craft beer scene and their restaurants' seafood theme.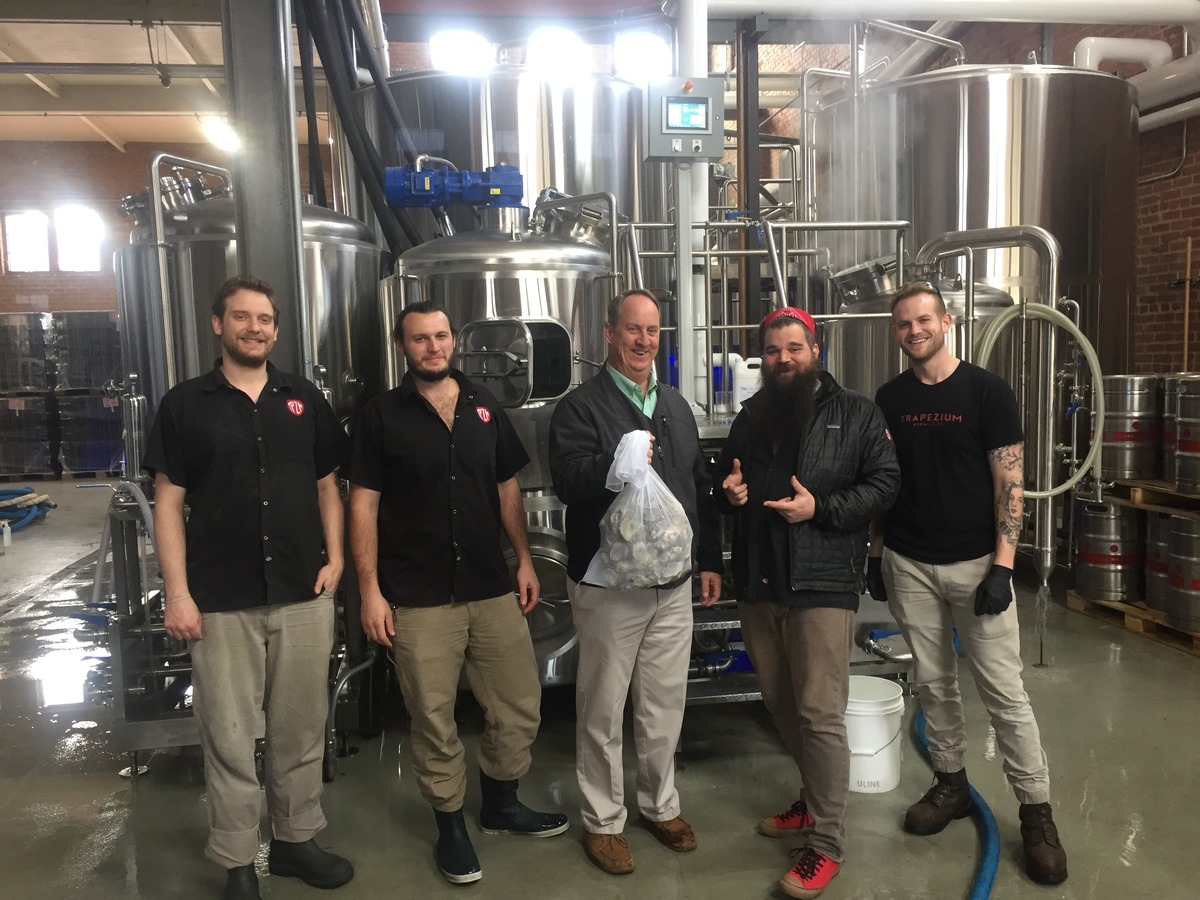 Charles Dane holds oyster shells from The Boathouse with the brewers from Trapezium Brewing Co.
The Boathouse's Beverage Director, Michael Avery, and the Petersburg-based Trapezium Brewing Co. developed the ale together with a goal of creating a "house beer" that would compliment the dining experience. The Boathouse Oyster Lager offers the traditional crisp, clean flavors of an American blonde ale and got its name from the distinct characteristics of oyster shells used during the brewing process.
To brew the beer, Trapezium uses shells from The Boathouse's signature oysters. By steeping the shells in the beer during the brewing process, the ale develops a savory, mildly briny flavor — which reflects their ideal flavor for an oyster profile.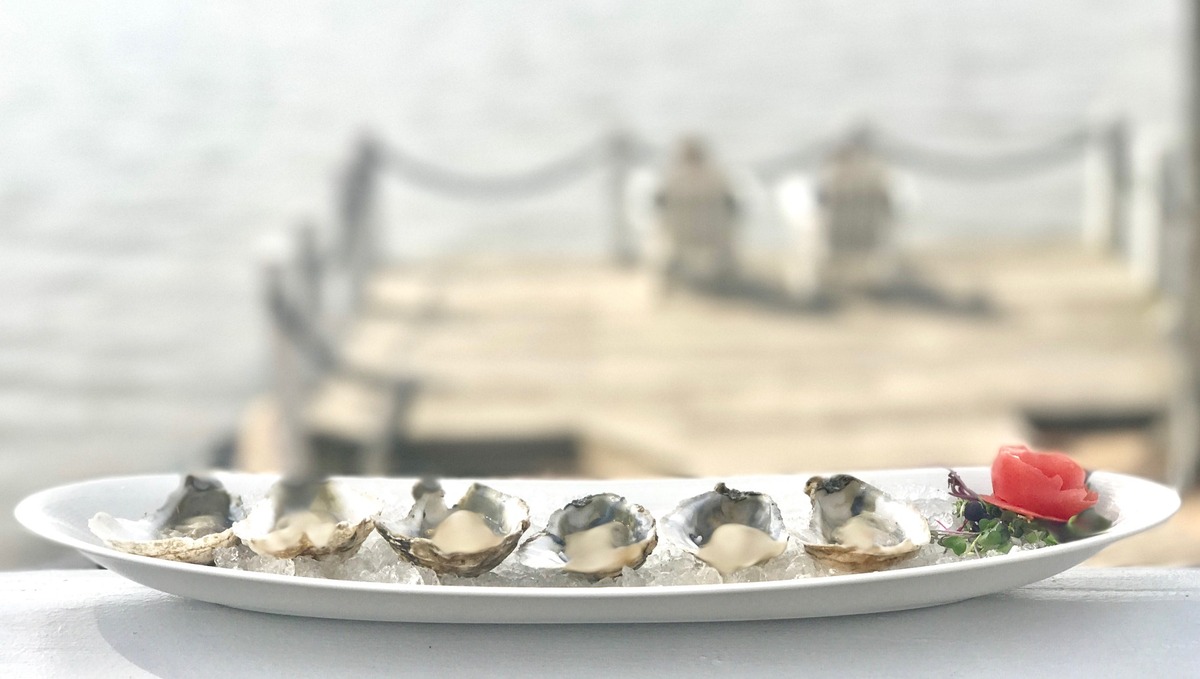 The Boathouse serves fresh, raw oysters across their Richmond-region locations.
The Boathouse will serve Boathouse Oyster Lager indefinitely at all three dining locations: The Boathouse at Rocketts Landing, at Sunday Park, and at Short Pump Town Center. They also will serve the beer at their forthcoming location at City Point in Hopewell, which will open in 2017.
You can get a first taste of the Boathouse Oyster Lager at a five-course beer dinner this Friday, March 24, at The Boathouse at Sunday Park. Food pairings include:
Starter: Lucky 27 Session IPA paired with a jumbo lump crab and salt-and-vinegar house chicharrones
First: Boathouse Oyster Lager paired with Boathouse oysters and lobster
Second: Lucky 39 IPA paired with Spot Prawn
Third: Lucky 25 American Brown Ale paired with Sous Vide Venison Loin
Fourth: Lucky 75 Lemon Honey Ginger Ale paired with Champagne Poppy Seed Cake
You can explore The Boathouse's full beer-dinner menu and their website for more information.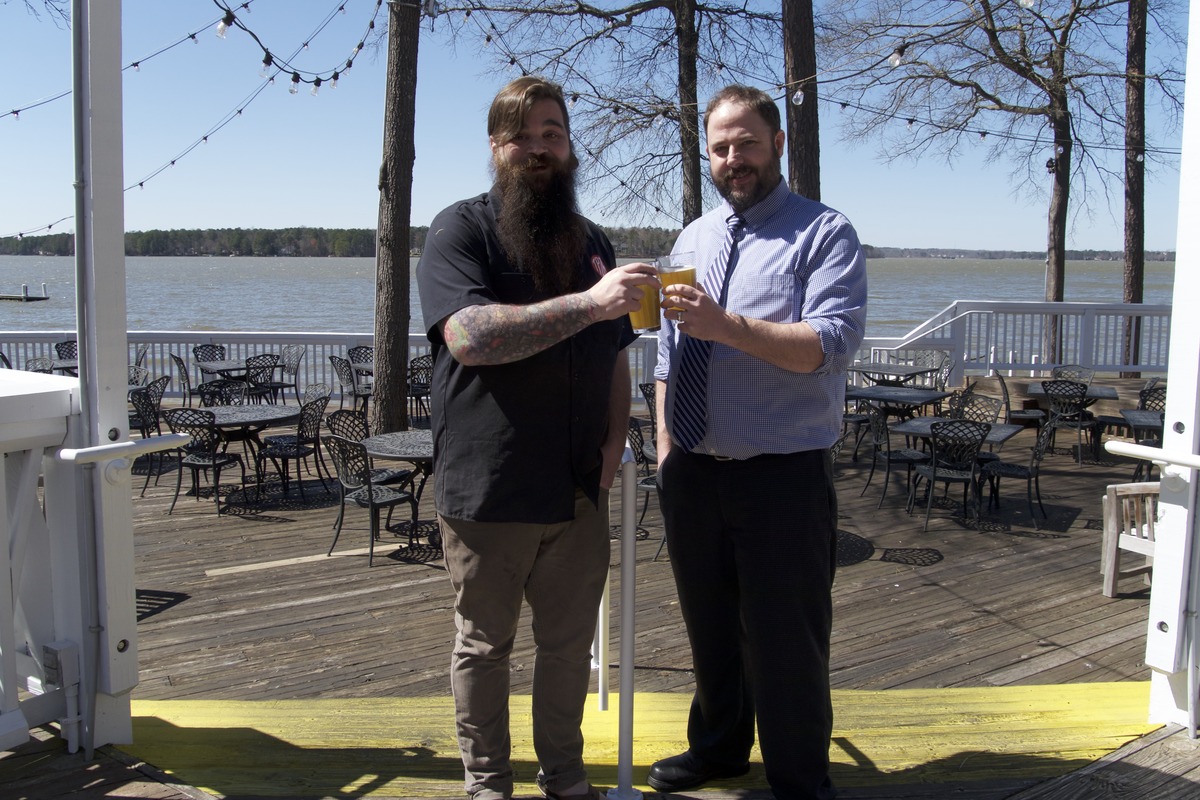 Trapezium Brewing Co. Head Brewer James Fraze and The Boathouse Beverage Director Michael Avery enjoy their first taste of Boathouse Oyster Lager.

As the Richmond region becomes an even bigger beer destination, we believe that the Boathouse's focus on creating a custom beer for their restaurant nicely reflects our rich culinary and craft beverage scene. Congrats to The Boathouse team for this new venture — we look forward to tasting the Boathouse Oyster Lager!

Photo credits: The Boathouse Restaurant
---