Right Around the River Blog
Urban Farmhouse Church Hill Relocates to Rocketts Landing
Post Date: 03-23-2016
Richmond, get ready. One of RVA's favorite — and fastest growing — cafes, Urban Farmhouse, is set to open
right around the river in Rocketts Landing
. Located in our 210 Rock building, Urban Farmhouse will take over the space formerly home to Mbargo, which will relocate its Church Hill location in Richmond to our riverfront community.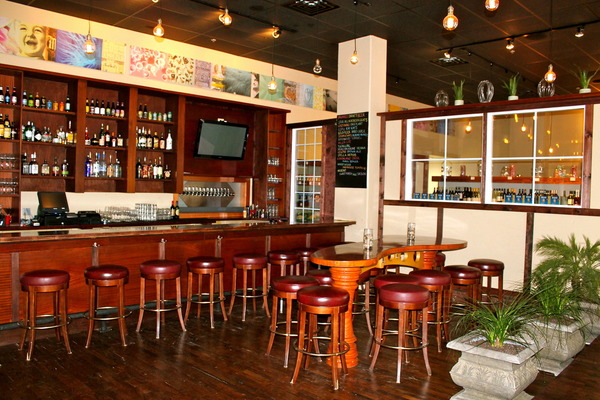 Former Mbargo space at Rocketts Landing will become Urban Farmhouse.
"We've been wanting to add a small cafe and coffee shop concept to our community," explains Richard Souter, executive vice president of The WVS Companies. "We're delighted to partner with Urban Farmhouse, and as a growing Richmond company, we believe they're the perfect fit."
Founded in 2008, Urban Farmhouse is a coffee shop, farmhouse market and wine cafe, all wrapped into one — with a focus on healthy, local eating. The cafes' notable environments celebrate bright spaces paired with outdoor seating and eclectic style. Guests can order drinks and food to go or for dining in house, which also includes an ABC on/off license.
So, this summer, you'll be able to grab the perfect bottle of wine and picnic items for your boating adventures
from our marina
or for your
cycling quests on the Virginia Capital Trail
.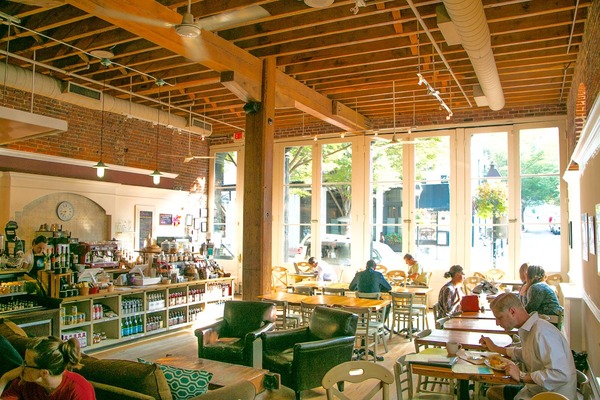 Light fills the cafe in the Urban Farmhouse Shockoe Slip location.
Cafe Founder Kathleen Richardson says that the current structure of the 3,000-square-foot space offers a great environment to move into — and is larger than some of their other locations. And after looking for a new location for their Church Hill—based cafe, Kathleen found that they have many opportunities to build on their brand and customize the cafe to the local Rocketts Landing community.
"[The location] is another reason we're so excited about Rocketts Landing," says Kathleen. "We will be in the midst of a wonderful neighborhood by the river but also very close to the Church Hill community, which we were happy to be a part of for over two years."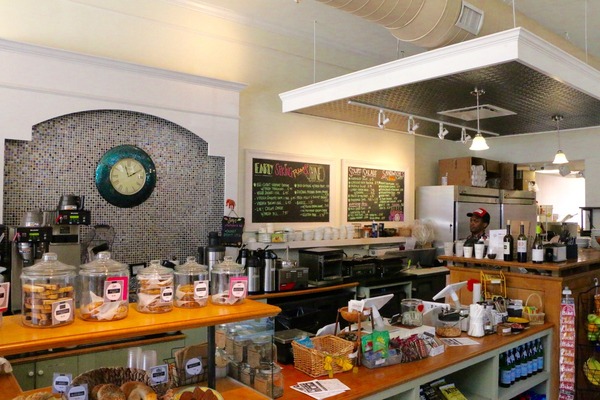 A market featuring healthy, local food and drinks is a key feature of each Urban Farmhouse location.
As they build out the space, they will feature their notable soft-seating area and communal table and also plan to take full advantage of the available patio. And with the tie to the marina at Rocketts Landing, Urban Farmhouse will bring in a boating theme, unique to our community — which aligns with Kathleen's focus on customizing each cafe to its neighborhood character.
Other details unique to Rocketts Landing include:
an expanded craft beer selection on tap, which is possible with the bar already in place from its former use.
an organic craft soda tap featuring Tractor Soda, which Kathleen says will be the first organic soda bar in RVA.
a custom omelette bar for weekend brunch, which will take full advantage of the space's commercial kitchen.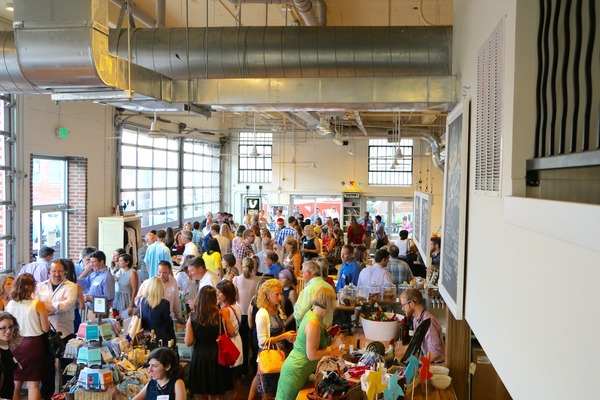 People pack the cafe at Urban Farmhouse in Scott's Addition, located in a renovated warehouse.

Urban Farmhouse estimates that they'll need four to eight weeks to customize the space — and they plan to open on May 1. We'll work closely with them along the way, so stay tuned for further details as we get closer to the opening date. In the meantime, we're excited for what's ahead and look forward to having Urban Farmhouse join the Rocketts Landing family.

Photo credits: The Urban Farmhouse Market & Cafe

---