Right Around the River Blog
New Sculpture at Rocketts Landing Focuses on Water Conservation
Post Date: 01-30-2011
At Rocketts Landing, the role of water in our lives is an important part of our growing community. Not only does our location along the James River provide stunning views of the water and wildlife it attracts, this proximity offers us a continuous reminder that clean water matters for our community - and the world at large.

So, when we were talking to local sculptor Charles Ponticello about his Deepwater Sponger sculpture series, we instantly knew Rocketts Landing would make a perfect home for his public art.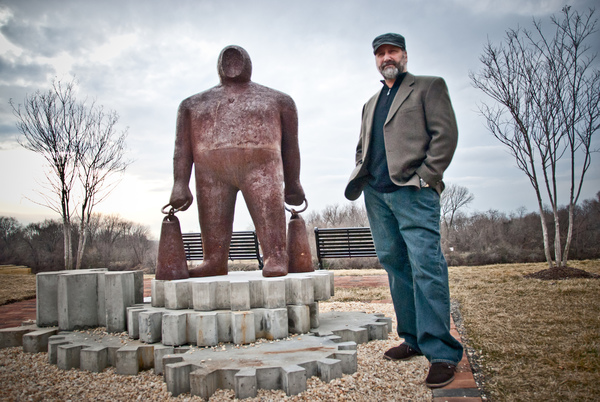 The Deepwater Sponger arrived on November 18, 2010, when a crane installed the nearly 2000-lb. sculpture at the bank's edge, beside The Boathouse. Standing six-feet tall, the Sponger is made of cast iron with cast-concrete gears, and is a character set in a hypothetical future where our water resources have drastically dwindled. In this eye-opening vision, the earth's water continues migrating beneath the surface, and The Deepwater Sponger is a water miner on a mission to retrieve the valuable resource, bearing the inscription: No Water, No Life.

On January 20, we officially celebrated the sculpture's arrival at The Boathouse along with the Friends of the James River Park. The event generated fantastic discussion on the role public art can play in a community, as well as the current state of the James River.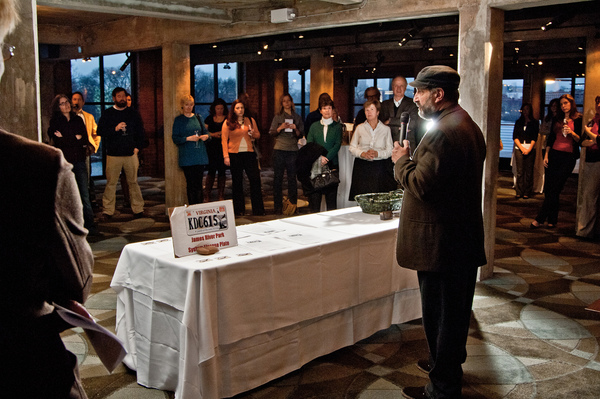 So, what is the role of public art and The Deepwater Sponger?

For Ponticello, public art brings awareness to a cause and enhances community relations. His Deepwater Sponger is the beginning of a series he hopes to install worldwide to further inspire discussion on — and generate awareness of — the state of our diminishing resource (To put the global crisis into perspective: Less than one percent of Earth's fresh water is available for human use!).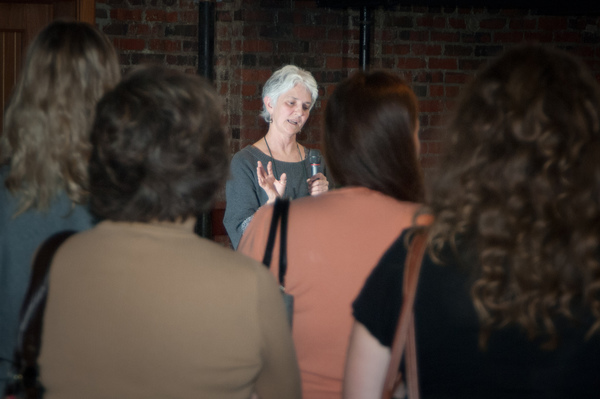 And, where does that leave our James River?

According to event speaker Anne Wright, coordinator of Life Sciences Outreach Education and assistant professor of biology at VCU, our beloved river is looking better than ever. Mating sturgeons have returned and are ready to reproduce (which offered guests a surprising video of squiggling, ripe male, um, you get the picture!). And our downtown fall line is now full of diverse, intolerant insects — some of which are traditionally a mountainous species — that can only live in water with a positive quality rating.

All in all, as the sun set over the downtown skyline, we embraced the evening as a success for both our newest Sponger resident and the James River that continues to be so integral to life here for many Richmonders — and Rocketts Landing residents, alike.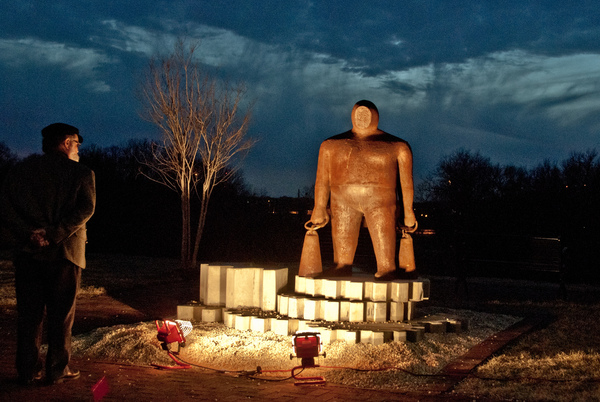 If you'd like to learn more about the sculpture and The Deepwater Sponger series, you can email Charlie Ponicello at studios19@aol.com. You can also learn more about Friends of the James River Park at www.jamesriverpark.org.


---